Bad Credit To Financial Success Story
Bad Credit Auto Loan Success Story at Cueter Chrysler Jeep Dodge Ram of Ypsilanti, Michigan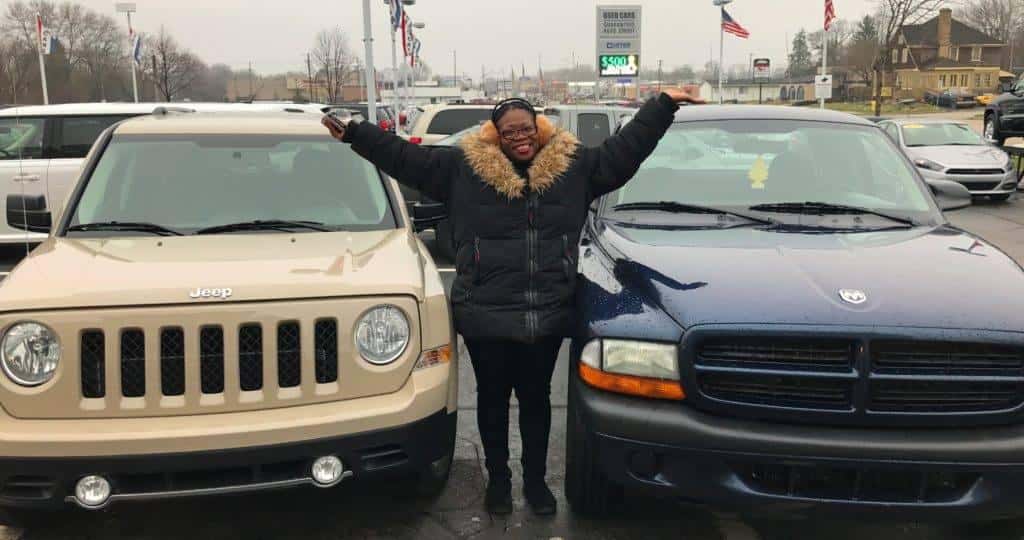 Cueter Chrysler Jeep Dodge Ram of Ypsilanti, Michigan isn't just an car dealership. We take great pride in helping our customers find financial freedom no matter their credit history. Marswella R. is our most recent success story. With our rehabilitation credit program, Marswella was able to purchase a 2003 Dodge Dakota from Dale Derrick at Cueter Chrysler Jeep Dodge Ram in May of 2014. After 34 "On Time" payments, Marswella was able to move her credit score, 680 points and now is the proud owner of a 2017 Jeep Patriot.
At Cueter Chrysler Jeep Dodge Ram, we have over 40 years of combined experience helping people with bad credit obtain auto financing. We can help people with bad credit to no credit history. If you are one of the many who want to purchase a vehicle, but have poor or no credit history, Cueter Chrysler Jeep Dodge Ram can help! Struggling with an auto finance situation can be extremely stressful and discouraging. Fortunately, we are here to help reestablish your past credit problems and push you toward a positive financial future. We have helped thousands of customers purchase the vehicles they want and we can help you too! Sometimes there are financial issues outside of your control especially in today's economy.
If you have recently gone through bankruptcy and are having problems obtaining auto financing, don't worry. You won't have to wait until bankruptcy falls off your credit report before the purchase of your new vehicle. It is possible to get an auto loan while you are still in bankruptcy. Let Cueter Chrysler Jeep Dodge Ram help you obtain your next auto loan.
We have specific lenders to increase your chance of securing an automobile loan with the best rate and structure to fit your budget. We have made our auto financing credit loans easy and stress free to our customers. Our job is two fold; #1 to help you find the right car and #2 to make it affordable.
Do you have questions regarding your auto finance options? Click here for a free credit score/ pre approval. Our pre approval process doesn't affect your credit and you get pre-approved instantly!