Mom On Wheels : Dodge Durango
Mom On Wheels (Jazmin Peck) With The All New Dodge Durango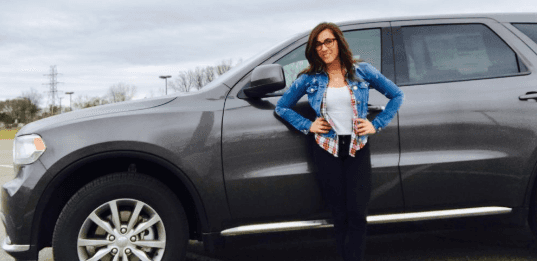 This Months Featured Vehicle Is the 2017 Dodge Durango.  I was very happy to have the Durango this weekend since I was transportation for my 13 year old son and his friends to a sneaker convention. The third row seating made it super easy to transport the boys while they had their space and we had ours. They were able to control their own temperature and had a lot of fun using the Dual-Screen Blu ray to play videos off of their phones. Not to mention I felt super safe on the road and waiting in traffic knowing the Durango has Blind Spot Monitoring, and advanced breaking technology.
UCONNECT vehicle finder was a life saver. It set a  pin point to the Durango and was able to provide directions to the vehicle through navigation on my IPhone. We also wanted to avoid the traffic on the way home. Uconnect allowed me to view traffic in real time, and effortlessly found us a restaurant on the way home. So no fumbling for this mom on this trip.
I was happy to hear how impressed the boys were with the powerful V8 of Durango and of course I was very excited about 22 highway mpg. The Variable Valve Timing was kind of a surprise to me at first, but once I realized it was saving us gas I was really impressed with how well it actually worked. Since Jayden and I do a lot of up north trips in the summer and considering budget,  I feel like this would be a great, Comfortable, affordable option for us.